Unmaking Atoms
"Compassionate, poignant, otherworldly and profound: this thought-provoking, sometimes raw, collection is accessible contemporary poetry at its zenith of achievement.' – Mark Logie
"Magdalena Ball has assembled a delicate memento mori of our many subtle frames of reference. Her imagery is beautifully structured in heart-breaking threads, and redolent of her intellect, her warmth, and her love of text." – Basil Eliades,
Sublime Planet
This collection of ecologically oriented poems traverses a wide terrain, moving from the loss of species to the beauty of the natural world, from drought to the exploration of alternative planets. It's an exhilarating collection that breaks boundaries and leads the reader deep into the personal heart of perception. Released by award winning poets Carolyn Howard-Johnson and Magdalena Ball to celebrate Earth Day, this is a collection of poetry that weaves the personal with the universal.
Listen to a recording of the title poem: Sublime Planet. 
_________
Black Cow

Freya and James Archer live the high life in a luxury home in Sydney's poshest suburb, with money, matching Jags, two beautiful teenage kids … and they couldn't be more despondent. James wakes weeping each morning, dreading the pressures of a long and grueling work day ahead, and Freya is struggling with her foundering real estate career. Global recession is biting in Australia, and the Archers are afraid. In a desperate bid for happiness and security they shed the fragile trappings of success and cruise over into the slow lane to take an unmapped turn-off on a country road and live off the land in a remote old farmhouse on the peaceful southern island of Tasmania. But is this an end to their old misery or the beginning of an even greater one?
"A fictitious story yet a story full of truth and soul searching wisdom."  ~Sarhn McArthur
________________
Repulsion Thrust
Repulsion Thrust tackles big subjects not often the fodder of poetry: quantum physics, astronomy, time travel, ecological destruction, and technological singularity, all viewed through the lens of the human condition.  "This is a book of poetry for anyone who has been in love and knows what it is to live in the twenty-first century, but who is more than a little scared of what might happen if all the lights went out. Take these poems seriously. They may just have some of the answers you require." ~Catherine Edmunds
________________
Sleep Before Evening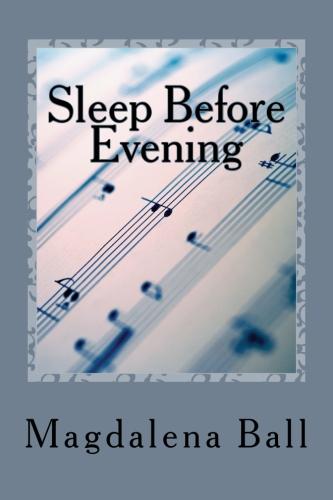 Sleep Before Evening is the story of a brilliant young woman who, after experiencing a death in the family, abandons the promise of her academic career for a desperate search within herself. Her new life is immersed in the dark side of New York, in all its squalor, booze, drugs, sex, violence, poetry, and original music. Despite the dangers, she braves morass for its stimulating freedom, and the opportunity to burrow underneath the layers of her life and uncover the inner pain that hurts so badly.  Sleep Before Evening was a finalist in the 2008 Next Generation Indie Book Awards, and was a 3 year running winner of the MyShelf Noble Prize. "Magdalena Ball demonstrates her mastery of the musicality of language and many scenes are imbued with striking imagery…As the drama coils tighter and tighter, it is this quality of writing that keeps the reader utterly glued." ~Cathy Biribauer
________________
Deeper Into the Pond
Part of the award winning Celebration Series, Deeper into the Pond celebrates, supports, and inspires women.  With original artwork by Jacquie Schnell
"Vivid images…will speak to you of times to look forward to or to remember. These are not poems to read once. They will stay with you forever." ~Nancy Famolari
yy

________________
Blooming Red
As part of our celebration series – a book of poetry focusing on the Christmas season.
"I love reading poetry aloud, and this volume is full of delight. Make your holiday great and read your family Blooming Red."~Margaret Fieland
"It is a great holiday stuffer! Fun and Informal. Five Stars from me." ~Joyce White
___________
Imagining the Future
A poetry chapbook focusing on fathers, husbands, and men in general. This makes a wonderful gift for Father's Day or anytime you want to say something unique in a way that only poetry can to a special male in your life.  A  poetry chapbook focusing on  fathers, husbands, and men in general.  This makes a wonderful gift for  Father's Day or anytime you want to say  something unique in a way that  only poetry can to a special male in  your life.  "In lyrical fashion, Ball and Howard-Johnson prove that fathers are more than just the  pipe-smoking Fathers Knows Best or the hapless all-thumbs caricatures of modern sitcoms. Their poetry and images are in our DNA and our hearts." ~Kristin Johnson
________________
She Wore Emerald Then
Reflections on Motherhood by Magdalena Ball and Carolyn Howard-Johnson, with original photography by May Lattanzio. A beautifully presented, tender and strikingly original gift book, ideal for Mother's Day or any day when you want to celebrate the notion of  motherhood in its broadest sense.  "Share this collection with someone you love…the reader is taken on a journey from the sublime to the commonplace and you can't help but smile." ~Helena Harper
________________
Quark Soup
Quark Soup contains twenty eight poems which muse on topics like what it means to be human, love, loss, fear, longing, and transcendence.
"…interesting, revealing, full of wonderful imagery and thought provoking. It is a fine collection of poems that will leave the reader wanting to go through them again and again. This is a must read for those who enjoy the challenge of allowing their minds to grapple with a new way of seeing things." ~Warren Thurston
Available from Picaro Press
________________
Cherished Pulse

Unconventional Love Poetry by Magdalena Ball and Carolyn Howard-Johnson, with original artwork by Vicki Thomas
2009, ISBN 978-1449546052
Amazon Kindle #1 Bestseller
Cherished Pulse contains twenty poems which look at love from a wise, mature, sensitive perspective.
"Never sentimental (forget Hallmark), the poems explore love in its many guises — cherish, longing, sensuality, and that sacred place between desire and consumation." ~Kristin Johnson
________________
The Art of Assessment: How to Review Anything
The Art of Assessment is a complete guide to the review process, from how to write good reviews, how to use interviews to add depth to your reviews, obtaining review copies, marketing your reviews, and plenty of examples and references to help you become a working reviewer. "If you are serious about wanting to be a good reviewer this is one book you will be happy to read." ~Kim Draper
Take our free e-course "How to be a reviewer"