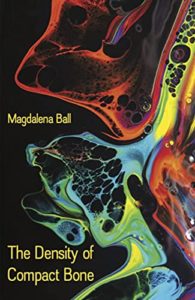 The Density of Compact Bone
by Magdalena Ball
Ginninderra Press
October 28, 2021
Paperback, 102 pages, ISBN-13 978-1761091865
Purchase from publisher: Ginninderra Press
Purchase from Amazon
Also available from Barnes & Nobel, Target, or best of all, ask for it at your favourite local bookstore!
The poems of Magdalena Ball's The Density of Compact Bone are utterly visceral, sometimes temporal, but never quite ephemeral – lines will ring out in waves inside the mind long after the final page has been turned. These poems are not only haunting, but haunted: by the sense of something undetermined gone missing and also by what is known to be lost. These are poems explored through the body; internal, intimate and yet filled with paradigmatic shifts: from personal grief to global keening, from the blurred landscape of raw human feeling to the clear data of exacting scientific analysis. Apocalypse is rife here, but this collection moves beyond a dissection of our end times. These poems are intelligent – at times almost mordantly so – meticulously crafted and ontologically restless, yet somehow Ball's humour, unassuming warmth, and varied musings on the movement of birds, the colour of planets or the buzzing of bees, leaves the reader feeling as though they have been gifted a potent balm for the relentless wounding ubiquitous here in the Anthropocene.' – Ivy Ireland
'In The Density of Compact Bone, Magdalena Ball stuns with her elegantly constructed paean to earth, sky, water and her requiem to loss, both ecological and personal. Luxuriating in finely crafted imagery of plant and bird life and intimate personal portraiture, this poetry collection teems with meticulously sculpted syntax, skilfully assured language choices and masterfully wry, wistful, wishful wisdom. From the atomic to the astronomic, the poet bears heart-aching witness to our "hardwired to self-destruct' "neon excess". A love song to beauty and loss riddled with existential questions and shattering observations, blending mystery, myth and metamorphosis, this work is both organically inventive and ingeniously self-aware.' – Anne Casey
'"Begin with tears. There will not be enough", Magdalena Ball starts the poem "How to make Lokshen Kugel", an apt metaphor for so many of these apocalyptic poems that address the trials that time presents to us. It is Ball's response to these challenges that is truly breathtaking. As she concludes the poem "Mitzvah", "Your voice carries. / You are setting yourself free / you are free."' – Charles Rammelkamp
'Magdalena Ball's poems are replete with images and symbols and sometimes pictorial representations of our guilt and desires. Her poems sometimes sing of the extinct creatures who breathed their last to question us for our inhuman actions, nature and its "objective correlative' in poetic diction. Magdalena Ball captivates her readers with cogitations on dreams, failures, moments of joy and despair, contemplations of serious existential truths and quest for the same. Her poems transport us to a land of ecstasy, the parabolic pathway of moving away and returning to the same trajectory of existence with a new promise or at least a complacency of some kind, or just a sense of well-being. Her poems are a must-read!' – Ketaki Datta
For media enquiries, email: maggieball@compulsivereader.com detailing publication and what you require (interview, review copy, Q&A, media kit, etc).