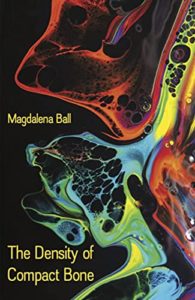 New! The Density of Compact Bone
by Magdalena Ball
Ginninderra Press
October 2021
Paperback, 102 pages, ISBN-13 978-1761091865
A love song to beauty and loss riddled with existential questions and shattering observations, blending mystery, myth and metamorphosis, this work is both organically inventive and ingeniously self-aware.' – Anne Casey
Purchase from publisher: Ginninderra Press
Purchase from Amazon
Also available from Barnes & Nobel, Target, or best of all, ask for it at your favourite local bookstore!
---
Unreliable Narratives
Girls on Key Press, 2019
In Unreliable Narratives, Magdalena Ball invites us to open a Pandora's box of memories. Like smoke rising from a candle and casting shadows and lights that shift and evade, the poems morph and twist with the dexterity of a master poet. They will draw you in from the first to the last like peering through a telescope, reminding us of the infinite multi-verses that can exist within a single narrative.
---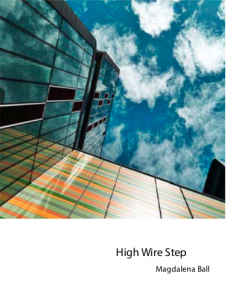 High Wire Step
Flying Island Books, 2018
High Wire Step is a collection of poems that engages deeply with political issues, from the impact of violence, opression and human arrogance to the power of empathy, collective consciousness, and humility. The varied voices in these poems are often playful and post-modern while keeping a fiercely scientific perspective, encompassing collective grief and responsibility, and drawing together the macro persective of the universe with the micro perspective of heartbreak. These are poems about the impact of greed, bigotry, social change, genetic inheritance, homelessness, disability and loss, but they are also poems with a slightly mystical slant, exploring transcendence and alternative forms of power and transformation From the technological singularity to crypto-currency, edible crickets to Trump Tower, High Wire Step moves organically between time and space, between an urban and a wild landscape and between despair and hopefulness.
---
Unmaking Atoms
Ginninderra Press, 2017
"Compassionate, poignant, otherworldly and profound: this thought-provoking, sometimes raw, collection is accessible contemporary poetry at its zenith of achievement.' – Mark Logie
"Magdalena Ball has assembled a delicate memento mori of our many subtle frames of reference. Her imagery is beautifully structured in heart-breaking threads, and redolent of her intellect, her warmth, and her love of text." – Basil Eliades  Visit: Amazon
---
Sublime Planet
This collection of ecologically oriented poems traverses a wide terrain, moving from the loss of species to the beauty of the natural world, from drought to the exploration of alternative planets. It's an exhilarating collection that breaks boundaries and leads the reader deep into the personal heart of perception. Released by award winning poets Carolyn Howard-Johnson and Magdalena Ball to celebrate Earth Day, this is a collection of poetry that weaves the personal with the universal. Visit: Amazon
---
Black Cow
Freya and James Archer live the high life in a luxury home in Sydney's poshest suburb, with money, matching Jags, two beautiful teenage kids … and they couldn't be more despondent. James wakes weeping each morning, dreading the pressures of a long and grueling work day ahead, and Freya is struggling with her foundering real estate career. Global recession is biting in Australia, and the Archers are afraid. In a desperate bid for happiness and security they shed the fragile trappings of success and cruise over into the slow lane to take an unmapped turn-off on a country road and live off the land in a remote old farmhouse on the peaceful southern island of Tasmania. But is this an end to their old misery or the beginning of an even greater one?  Visit: Amazon
"A fictitious story yet a story full of truth and soul searching wisdom."  ~Sarhn McArthur
---
Repulsion Thrust
Repulsion Thrust tackles big subjects not often the fodder of poetry: quantum physics, astronomy, time travel, ecological destruction, and technological singularity, all viewed through the lens of the human condition.  "This is a book of poetry for anyone who has been in love and knows what it is to live in the twenty-first century, but who is more than a little scared of what might happen if all the lights went out. Take these poems seriously. They may just have some of the answers you require." ~Catherine Edmunds 
Visit: Amazon
---
Sleep Before Evening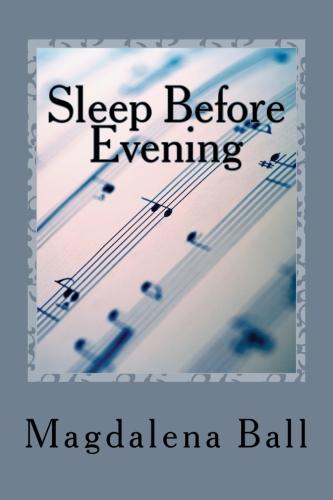 Sleep Before Evening is the story of a brilliant young woman who, after experiencing a death in the family, abandons the promise of her academic career for a desperate search within herself. Her new life is immersed in the dark side of New York, in all its squalor, booze, drugs, sex, violence, poetry, and original music. Despite the dangers, she braves morass for its stimulating freedom, and the opportunity to burrow underneath the layers of her life and uncover the inner pain that hurts so badly.  Sleep Before Evening was a finalist in the 2008 Next Generation Indie Book Awards, and was a 3 year running winner of the MyShelf Noble Prize. "Magdalena Ball demonstrates her mastery of the musicality of language and many scenes are imbued with striking imagery…As the drama coils tighter and tighter, it is this quality of writing that keeps the reader utterly glued." ~Cathy Biribauer